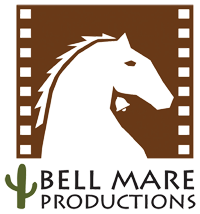 Home Page / About Us / Contact Us / BCStories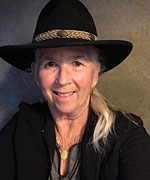 Trudi Angell - (Producer / Director) is an award-winning organizer of rural, sustainable tours in Baja California Sur, Mexico. Since 1986 she has organized mule-pack trips to renowned World Heritage Rock Art sites and famous road-less ranches, missions and villages in the heart of the peninsula. She was an Associate Producer in 2007 for Corazón Vaquero, a timely documentary portrait of Old Californio ranch lifestyle. Thirteen years later, at age 65, this is her first full-length documentary, having worn many sombreros for the past 4 years as Producer/Director/Head of Logistics/Translator and more!

Elizabeth Moreno Damm - (Cinematography) was born in La Paz, Baja California Sur, Mexico. Having studied Photography at Colorado Mountain College and specializing in Fine Art Printing and Documentary Video, Elizabeth's medium of 'artistry with light' has led her to a profession as a freelance photographer in her home city. Her passion lies in Baja California with a focus on the intimacies of the Rural Ranching Culture on the peninsula.
Alejandro Rivas Sánchez - (Cinematography, Drone) has been living in La Paz, BCS since 2005 and is renowned for his documentary editions related to the natural and cultural heritage at the edge of the Sea. His documentary work has been honored with the "Premio Nacional de Periodismo Fernando Benítez" and the Jury's prize at the "México de los Mexicanos" contest. Alejandro's latest piece "Restoring the Bay, a cultural transformation" was selected for screening at the Ecofilm Festival 2016.
Erik Stevens - (Co-Producer, Video, RED, and Editing) is a native of San Francisco, California. He is a writer and videographer who has been traveling the world and focused on natural history for over 30 years. He began making nature videos in BCS in 2013 and now spends his time exploring, recording and writing on the culture and natural beauty of the peninsula.
Sergio Castro - (Editor, Post Pro Supervisor) - was born in La Paz and has been living for the past 6 years in Mexico City. His heart is in BCS but his editing skills have flourished in D.F.. He was very excited to edit a teaser for promotion, and then the Recua documentary, to share a part of the history of Baja California Sur via film.
Rogelio Muñoz - (Sound Engineer) was born and raised in BCS and studied sound for film in Monterrey, Mexico. Rogelio has lived in La Paz for most of his life, has worked in the BCS area on many projects and films. He is considered one of the best sound engineers on the peninsula and is requested in all parts of Mexico.
Leonardo Simoes - (Animation, Post-Pro Supervisor) - hails form Portugal, studied in Guadalajara and has been living in La Paz for 8 years. Our go-to genius for technical issues, Leo is one of the most focused filmmakers in his craft.
Andrés Ozawa - (Script) was born in La Paz and was a valued team member for the post production of La Recua by bringing different story-vision into perspective.
Fermín Reygadas Dahl - (Consulting) has been living, researching and teaching in La Paz for over 40 years. Specializing in, well, everything. Fermín is currently working on publishing a book on the History of Leatherworking especially related to techniques in Baja California Sur.
Alvaro Castro - (Sound Design and Mastering) born in La Paz, works as an audio engineer in sound design in Mexico City and has jumped back into his desert roots to produce a sense of place via sound in La Recua.
Alejandro Guerrero - (Music Score) - was born in La Paz BCS and trained in various regions of Mexico. He is a musician trained in classical guitar, flamenco, plus many other genres of guitar, drums and more. His experience teaching children and young adults, conducting orchestras, and making professional music presentations throughout Mexico and the world, belies his young age.
---
"RIDERS" (documentary subjects on film):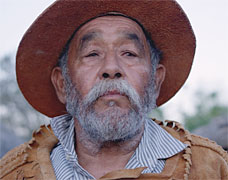 Darío Higuera Meza - (Actor / Director/ Dreamer) Darío is a ranching and leatherwork expert specializing in traditional gear used in Baja California Sur. Darío was a key character for the filming of the award-winning documentary, Corazón Vaquero in 2006/2007. Recently he has won several statewide recognitions for his continued work in teaching, promoting and inciting a revival of historic Californio ranching skills. Darío has earned the position of Director for the film. His story and knowledge weaves through the fabric of the film and leads us down the trail.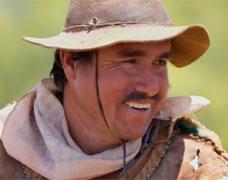 Luis Higuera Murillo - Is the youngest son of Dario Higuera and key element to pack train management, trail knowledge and construction of traditional gear used in the documentary.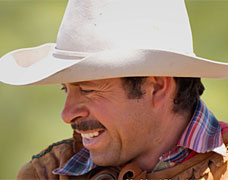 Ricardo Arce Aguilar - age 35, lives in the Sierra San Francisco in central BCS. Ricardo's screen-presence, music ability, trail-guide experience, and ranch and leatherworking knowledge makes him a perfect addition in our documentary.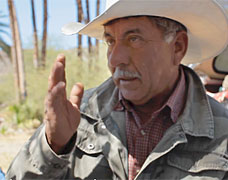 Jose 'Che' Martinez - Che is trail-guide extraordinaire and the guy we counted on to give us our daily "walking orders" for trail and camp logistics.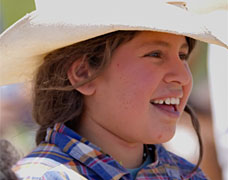 Azucena Arce - age 10, daughter of Ricardo, has grown up on road-less ranches. Riding outback trails and learning to herd and pack burros at a very young age, her genuine and competent trail-presence makes her an inspiring member of the team.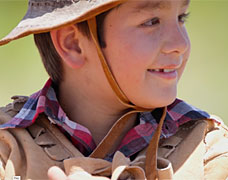 Luis Ramon Higuera, age 8, is the son of Luis and the lucky grandson of Dario Higuera. Apple of his grandfather's eye Ramoncito is the future generation to keep the historic talabartero (leatherworker) tradition alive.

How the Bell Mare Got Her Name
In March 2014 it was confirmed … our Baja California Sur vaqueros were invited to be the Special Guests in Elko Nevada, at the 31st National Cowboy Poetry Gathering, January 2015. We had less than a year to prepare for the trip, and we needed every minute of it!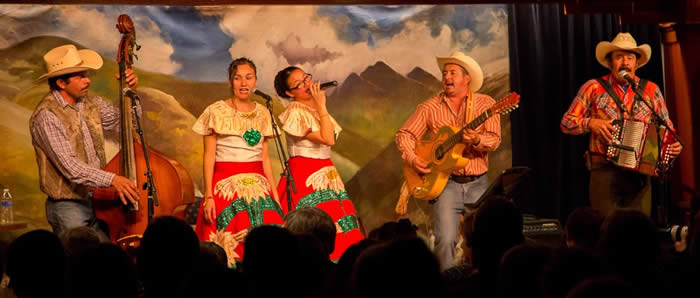 Some of our group of 8 had never traveled very far from their home ranch. A few had been as far north as Ensenada, and a couple of them luckily already had a Mexican passport and even a tourist visa to visit the US. None had computer or internet skills to unravel the messy business of filling out online forms for – well, anything. What they needed was a handler.
Long story short, with a little help from lots of friends we got those cowboys down to La Paz for their passports; up to Tijuana several months later for their visas; and in January maneuvered flights from Loreto and San Diego all the way to Salt Lake City, and on to Elko, Nevada. In the course of our travels… it was yo, Trudi, who was the designated driver, organizer, and command central as I imagined myself… "herding those cowboys along our trail to Elko".
However, it was Dario Higuera, in fine form one morning at breakfast in our hotel in Tijuana on the trip north for their visas, (just after the group's first plane flight and first elevator rides) who coined a better name for me than either "the Border collie", or La Arriera (the herder). La Caponera stuck for the next 4 months and throughout our 2 weeks of travel in the US. "Sigue la Caponera!' became the travel-cry of our band of vagabond vaqueros. "Follow the Bell Mare!" still fits.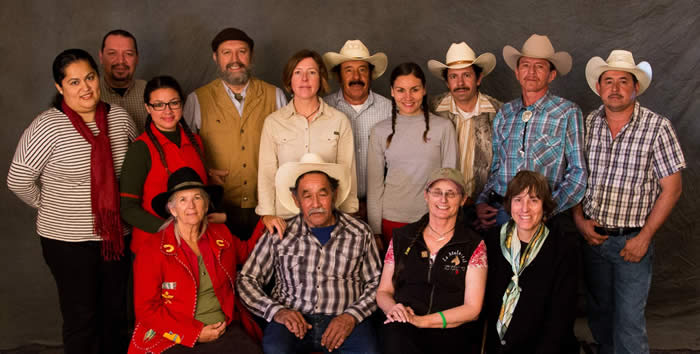 Top Row, standing: Karla Amao & Carlos Diaz Castro, museum designer; Duna Conde, singer; Prof. Fermín Reygadas - museum designer in Elko: McKenzie Campbell presenter, translator and direction; "Chema" Arce, muician; Damina Conde, singer: Ricardo Arce, musician; Juan Gabrial Arce saddle-maker; Bonifacio Arce, musician; Bottom Row, seated: Trudi Angell, la caponera; Dario Higuera, traditional saddlemaker; Teddi Montes, amiga and translator; Meg Glaser, Cowboy Poetry program and artistic director.